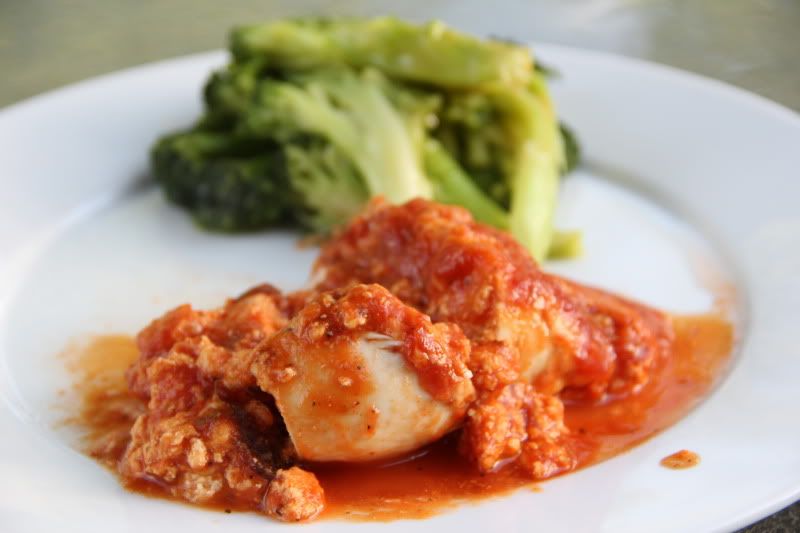 3 thick fresh chicken breast sliced in half length wise (flatten with tenderizer)
1 cup low fat ricotta cheese
2 cups fat free or low fat mozzarella divided
1/2 cup shredded parmesan divided
1 egg
2 cans organic tomato sauce
2 tbls organic brown sugar
3 tsps dried basil divided
1 tbls black pepper
1/2 tsp garlic powder
1 beef bullion cube
Preheat oven to 375.
Prepare chicken by slicing length wise and pounding with meat tenderizer. This will give you more chicken to work with.
In a bowl combine ricotta, egg, 1 cup mozerella, 1/4 cup parmesan, 1 tsps basil, and 1/2 tbls black pepper. Mix well.
In a saucepan combine tomato sauce, brown sugar, 2 tsps basil, 1/2 tbls black pepper, garlic powder, and beef bullion. Simmer for 5 minutes.
While sauce is simmering spread ricotta mixture onto each breast.
Roll the chicken breast up and pack tightly in a baking dish with remain chicken rolls.
Pour sauce over the chicken. Make sure to work it around the side and let it seep into the bottom of the baking dish.
Place in preheated oven for 25 minutes. Remove from oven and top with remaining cheese.
Crank oven heat up to 415. Put chicken in for an additional 10 minutes or until chicken is fully cooked.